How Does PSA Restoration Software Stack Up Against Albi?
---
Let's take a look at some key points between the two restoration software solutions.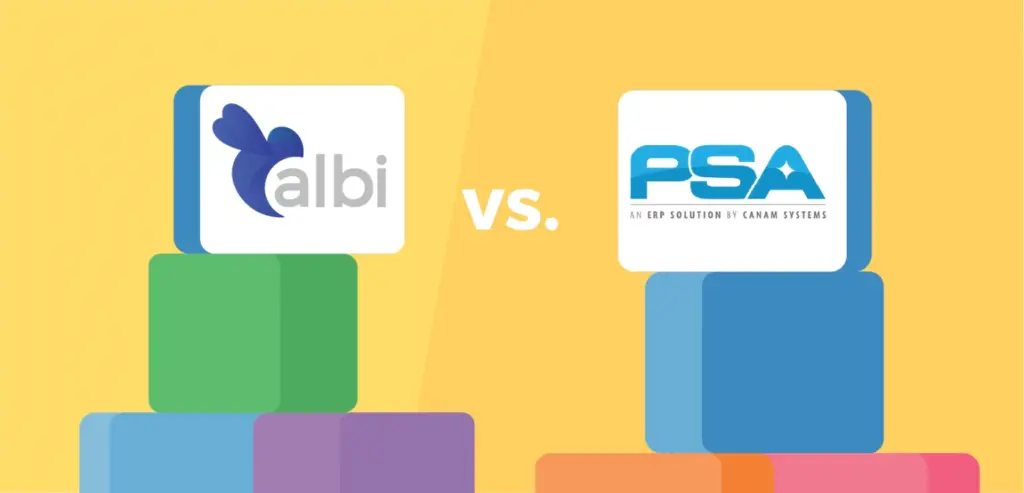 PSA Restoration Software by Can-Am Systems has been providing software solutions for restoration companies big and small for the past decade. They are considered the "boutique" restoration software company as they are family-owned and operated with a fairly small team. Let's take a look at some key points of "How does PSA Restoration Software stack up against Albi?"
Innovation Over Time
PSA has remained very similar as time has progressed. A PSA user from 5 years ago will not see much of a change in the software using it again today. Looking at PSA's release notes you can see that the majority of releases are minor bug fixes and tweaks to the software.
The Albi software has built functionality that adds to everything that PSA offers, which can be very useful. They have developed time-saving, unique features, such as their phone system directly integrated into the software.
If you're looking for innovative software that continues to dramatically develop over time, Albi could be the one to help close the gap between your needs and goals.
Accounting
PSA is well known for its desktop version of PJM which has a fully built accounting system for restoration companies. $20MM+ restoration companies swear by this, however, it is not cloud-based and quite cumbersome to use.
Albi compliments Quickbooks Online in providing restorers with an accurate financial view of all projects and marketing efforts seamlessly. Albi lets Quickbooks do the heavy lifting accounting-wise.
If you're a $20MM+ company looking for advanced income reporting based on heavy usage of purchase orders and work orders, then PSA could be the way to go.
If you're a smaller to mid-sized company that uses Quickbooks and are looking for something to give you better job costing and profitability metrics, then Albi is your tool!
Mobile App
PSA's mobile app is very limited in capability. It allows you to do certain things once you are in the field, with a lot of clicks to get them done.
Albi's mobile app allows you to do 80% of the actions you can do in the web app. It is also designed to be user-friendly eliminating unnecessary clicks.
Integrations
PSA has been closed off integration-wise until the last couple of years. However, now they offer various integrations like Matterport and Xactware. Albi, on the other hand, has not been able to acquire a Xactimate integration as of yet.
Albi has an open API, which integrates with Quickbooks Online, Zapier, Company Cam, Encircle, Kahi, and many more.
Albi is much more 'open' than PSA regarding integrations. There are almost an average of six to ten new integrations per year! This is an important fact to consider, as no software can do everything perfectly, however, one software that talks too many can get pretty close.
Simplicity/Learning Curve
Albi is plug-and-play. We offer multiple training sessions which are also included with free onboarding, available whenever you wish to get more.
As a PSA user, you are offered fully equipped training that will include your setup and training time as part of your paid onboarding process.
A user logging into Albi can sign up for an onboarding process or also has the option to easily navigate through the software to find everything they need after their initial setup.
Reporting
Both PSA and Albi have powerful custom reporting capabilities. PSA counts with custom reports that you can create to fit your specific needs. Albi allows you to customize your reports and turn them into dashboards, allowing you to find it all in one place, quickly and easily.
Also Read: How does Xcelerate Restoration Software stack up against Albi?
Pricing
PSA has a base price of $325 for 5 users and then $5.25 per user extra.
They also have a $1500 mandatory onboarding/set-up fee.
Albi is $100 per user per month for Pro Users (this includes phone system and advanced reporting) and $60 per user per month for the base users. There is an optional $1500 advanced training package, however, basic training is included.
PSA becomes more cost-effective for a company with over 6 users, "yet, the additional time spent on day-to-day operations is something to consider."
Conclusion
After a detailed overview of "How does PSA Restoration Software stack up against Albi" our conclusion Is, PSA is a great system for large companies that are cost-conscious and require advanced accounting that QuickBooks cannot help with. PSA is also a very useful program for heavy companies requiring a Xact Analysis/ Xactimate integration.
However, for companies that do not require the above, Albi is a great option due to its usability, open API, ease of implementation, mobile app, and innovation over time.