How Much Money Does Albi Save a Restoration Contractor?
---
As a restoration business owner, getting buy-in from your team on how a tool saves you time and money will make for a smooth transition.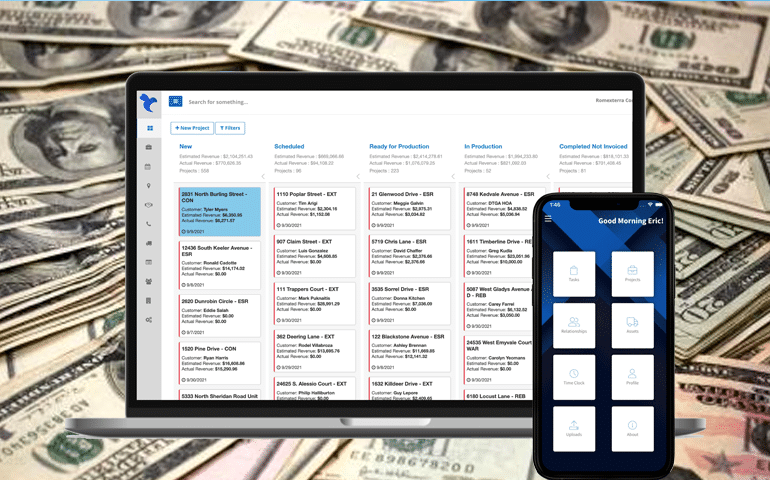 Two important factors to consider when looking to acquire a job management system are your goals and challenges. When a business has an effective tool in their hands that allows them to accomplish those goals, saving time and money comes naturally. As a restoration business owner, getting buy-in from your team on how a tool saves you time and money will make for a smooth transition.
Let's take a company doing 15 jobs per month with 8 employees and look at the leaks. I will be using very minimal figures to portray the bare minimum that Albi can save roofing and restoration contractors per month.
Accountability  —  Value ($2,855.00 monthly) *
Albi boosts company-wide accountability by:
With recorded phone calls and emails on job files, everyone can see the activity on all jobs eliminating the "I called the adjuster 5 times and left him a voicemail" fib.

With our custom reporting engine, you can ask Albi questions like "What jobs have costs but have not been billed".

With our required files feature, you cannot close a job without essential documentation being filled out.
The minimum this would save is:
15 days lower turn on receivables. ($1500 value)

1 Job per quarter forgotten to be billed ($1000 value)

1 job per year that gets lost in litigation for not having proper paperwork ($333 value)
Usability of Current Systems — Value ($478.00 monthly)*
Albi, is super fast and easy to use. This increases company "buy-in" and makes life so much easier!
With our mobile and web app being cloud-based, you have access to all project data from anywhere in the world ($69 per month)

If you have 5 new technicians per year- Learning paper or another system for 8 hours and learning Albi for 30 mins. 7.5 hours x 5 techs x $35 mins = $1312.5 yearly/ 12 mos = $109 per month. Let's assume 5 mins extra per each job per month in a slow app (between all login and action attempts). That's 75 extra mins per employee per month or 10 hours per month. $300.00 per month
Manual Entry — Value ($612.50 monthly)
Let's assume 15 jobs are manually put in QuickBooks and information from QuickBooks manually put back in a spreadsheet per month. It takes 30 minutes to do this task or 7.5 hours per month. At a rate of $35 per hour with labor burden = $262.5
Let's assume 5 minutes per each stage of the job emailing an update to the client of what to expect x 5 stages per each job x 15 jobs = 375 minutes or 6.25 hours per month. = $218.75
Let's assume 3 other apps you have to log into (Company Cam, T-Sheets, Moisture Mapper) and an additional 5 minutes per job per each app to get information. 225 minutes or 3.75 hours or $131.25
Scalability — Value ($6,000 monthly)
So let's assume with all of this it takes an extra year to six months (the absolute least) to double your restoration business. A contractor doing 15 jobs per month or 720k per year will take an extra 6 months to reach 1.4MM. Those extra 6 months have an opportunity cost of 70k. That's 6k per month!
Customizability — Value ($244.00) *
This is a hard one to quantify. However, I would say that you easily lose 1 hour per employee per month trying to fit something in someone else's box. 8 hours x $35.00 = $244
Total Value: ($10,189.50)
Total monthly cost: ($800) Assuming all 8 users are on the Albi Pro plan at $100 per month.
Total ROI ($9,389.50) or $1,173.69 per employee per month!
Already using a job management system? Albi has a competitive advantage over the items with an asterisk (*), meaning that no other restoration job management system can do this. If you're quantifying the switch to Albi from an existing job management system, Albi can save up to $3577.00 per month due to the unique functionality no one else has! This equates to $447.17 per employee!
Through this detailed overview, one can easily understand," How much money does Albi save a restoration contractor?" By using this tool, you can save time and money, and your business can grow rapidly.