How Albi makes it easy to switch restoration industry software
---
Let's take a look at what we've implemented at Albi to make your transition as seamless as possible!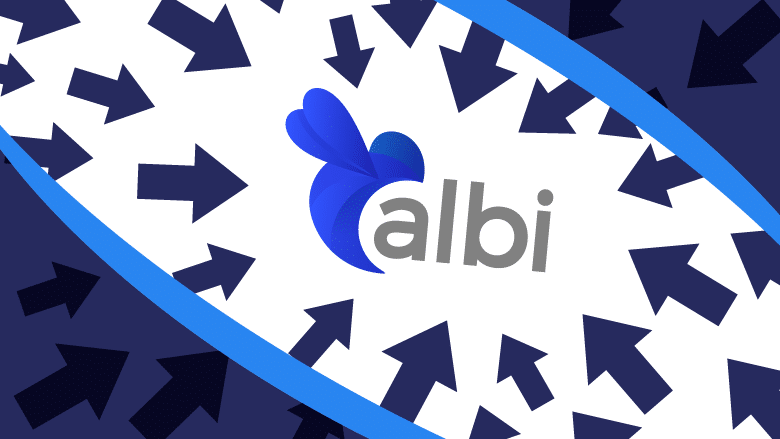 The stigma with restoration industry software is that changing a restoration job management platform is worse than a stick in the eye. The reality is that those days are over. Let's take a look at what we've implemented at Albi to make your transition as seamless as possible!
Software, especially in the Restoration Industry, is typically portrayed as a headache to implement. Before creating Albi, we struggled to implement NUMEROUS CRM software at our restoration business. We had hoped for it to take work off of our plate, but it just added another headache to our day-to-day lives. That's why we created an EASY, cost-effective, and quick way to implement when developing Albi. Let's break this down:
We Make it Easy for You and Your Team
Restoration software should not take a full-time person in an office with an IT degree to run! It should be simple, intuitive, and fast! At Albi, our entire development team focuses heavily on the user experience while building and improving every aspect of the software.
This makes switching from one software to Albi extremely easy, as you'll be able to find the functions right away!
Here's a deeper look at our Mobile App: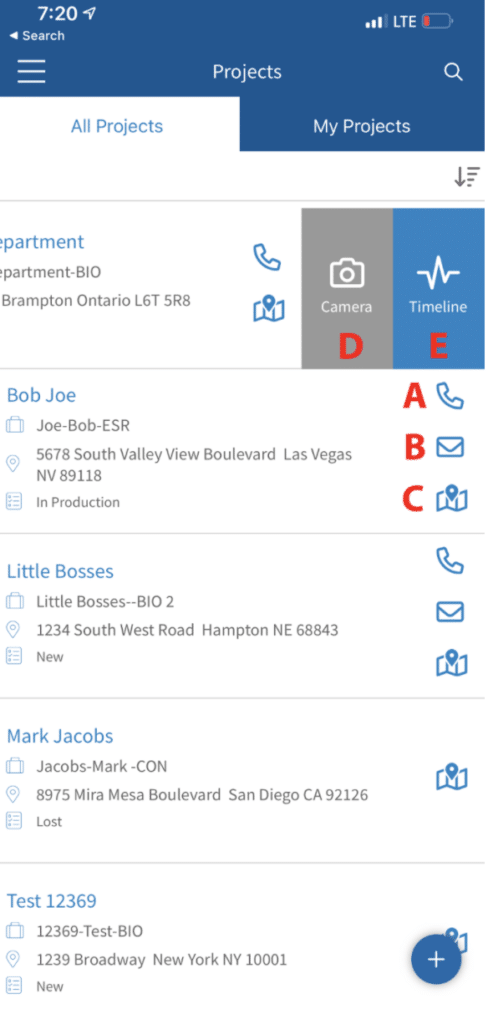 Here's an example of how many things you can do from the projects page of our mobile app, simply and easily:
A. Clicking on the phone icon to quickly call the customer and let them know you're running late.
B. Clicking on the email icon to quickly email the customer an update.
C. Hitting the map button to get driving directions to the customer's house.
D. Swiping right and clicking the camera button to quickly take photos at the property when on site.
E. Swiping right and clicking the timeline section to add a note of your property inspection results.
The number of clicks to do one task matters to us, and it for sure matters to your technicians out in the field!
"Triple 1 Onboarding Approach"
Onboarding is a critical part of the switch from any restoration software. At Albi, we assign a dedicated account manager who is responsible for your onboarding experience. They are there step-by-step throughout your entire journey with us for additional training, best practices, and much more. There is no limit on the amount of training you can receive. Our onboarding process is quite simple and easy.
1 Day to Basic

Within your first meeting, we are able to set up your entire system to where you can begin introducing projects and start using it. Typically, the only thing that takes time and will not be ready by now is digitizing your template documents. During this time, we can also get most of your integrations set up also.

1 Week to Proficiency

Within the first week of onboarding, you and your team will be early adopters and be proficient in all the areas of the software and love it! Again, everything is pretty intuitive and easy to find! As some of our clients say "It just makes sense".

1 Month to Mastery

Within the first month, you will have graduated from Albi onboarding and reached mastery level. At this point, you will have automation turned on and will know how to build custom reports yourself! No worries though! Your dedicated account manager will still be checking up on you to ensure you're doing well and to answer any questions you may have! If your team needs refresher training, you can always schedule it via a convenient meeting link!
Meet Margarita, one of our Account Managers!
Knowledge Base & Training Videos Built Within the Software
Almost every area of our software has a little "i" icon that you can click on, which activates a knowledge base with a written article and video. Through these articles and videos, you can quickly learn how the functionality works and also see some best practices. We spent a lot of time crafting the knowledge base and videos in order to ensure that learning your new restoration industry software is as easy and painless as possible!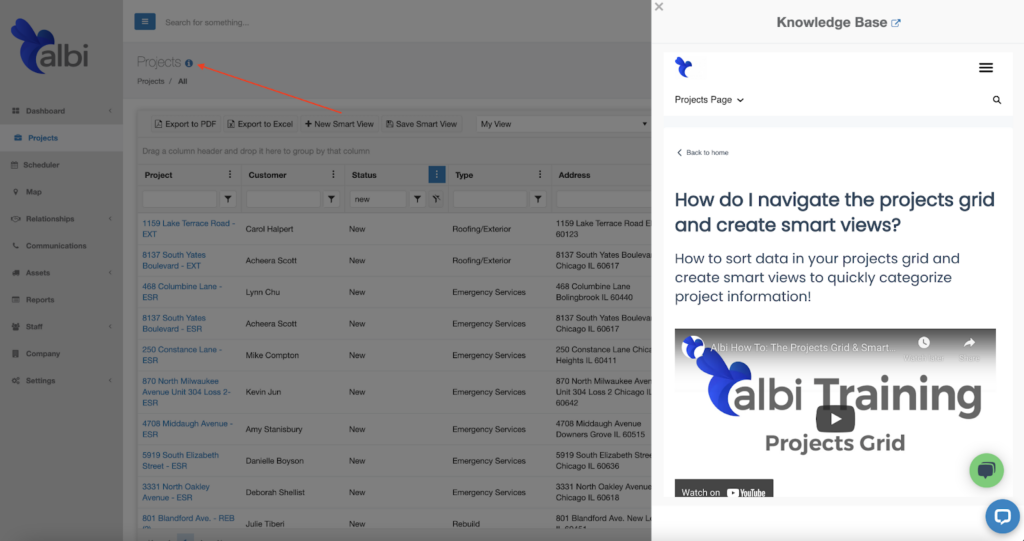 "Do it for You" Approach!
We understand that for some restorers, technology may not be their strongest suit. That's why we offer packages like our automation package, where we manage automation for you! This makes the switch even easier! Instead of building your own workflows and trying to understand how triggers and actions work, you can reach out to your account manager and they can research the idea and build/implement it for you! Not sure where to start? Here's our customer journey automation template!
"Can Albi automate my plumber gift cards every time a job is referred?" YUP!
"Can Albi send handwritten cards to my agents every time they send us a job?" YUP!
"Can Albi automatically send updates to my customers every step of the way?" YUP!
Here's an article in the R&R Magazine we wrote about automation!
That way, you can leave the IT degree to us, and focus on what's important, like growing and scaling your restoration business!
As you can see, we've gone above and beyond in making Albi an easy restoration software to switch to by focusing heavily on the user experience, onboarding process, knowledge base & How-To videos, and allocating IT resources to do the heavy technical lifting!