Dash vs. Albiware: How to Choose Your Best Fit in 2023
---
Learn which software is a better for you and your team!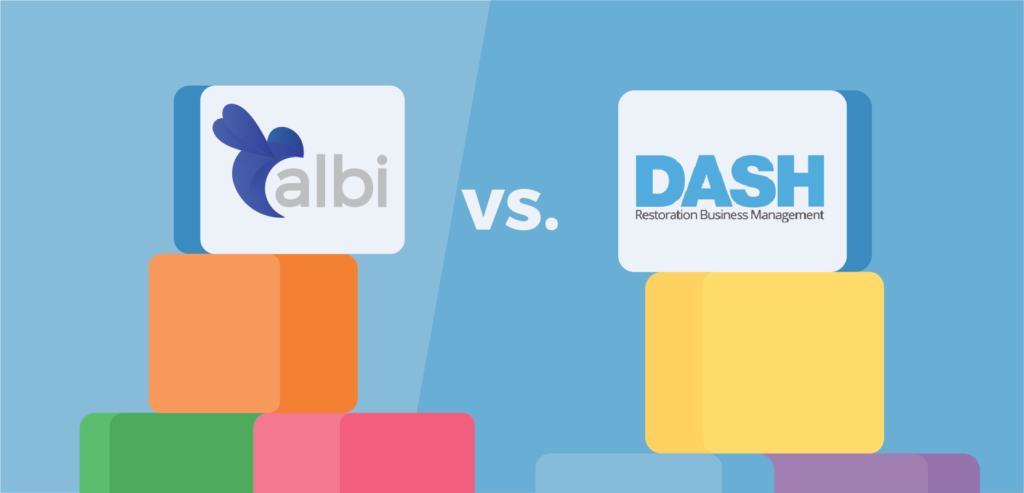 When it comes to choosing your next CRM we know you've got options. We know that it's important to really do your research and figure out what the best software is for your company. We constantly get questions about how we compare to others. So here it is, an honest comparison of Dash Next Gear Solutions and Albiware.
Dash Next Gear Solutions vs. Albiware: A Brief Description of Both
What is Dash? Dash by Next Gear Solutions is a cloud-based job management software. It's aimed at helping restorers run their businesses efficiently by going paperless. It's undoubtedly the most well-known Restoration Job Management Software out there!
What is Albiware?
Albiware is a cloud-based management platform/ CRM software that makes technology easy and accessible for home service contractors! We have field documentation, project management, as well as moisture mapping. Albi is the "new kid on the block," innovating much-needed functionality built by restoration contractors for restoration contractors.
Dash Features: Straightforward & Minimalistic
Dash has been in the market since 2007 and is close to the same Dash that even the old-timers know. Aside from a few new features like Pro-Assist and a couple of integrations, Dash users have not seen many new features and functionality come out. Check out a few of their standard features.
Customized Work Flow Builder: The flexible open platform is configurable to fit your unique business requirements.

Centralized Documentation: Centralized documentation, including work authorizations, estimates, certificates of satisfaction and invoicing.

Dashboards & Reporting: Use data to gain powerful insights and analysis with custom dashboards that streamline job management, accounting, and more.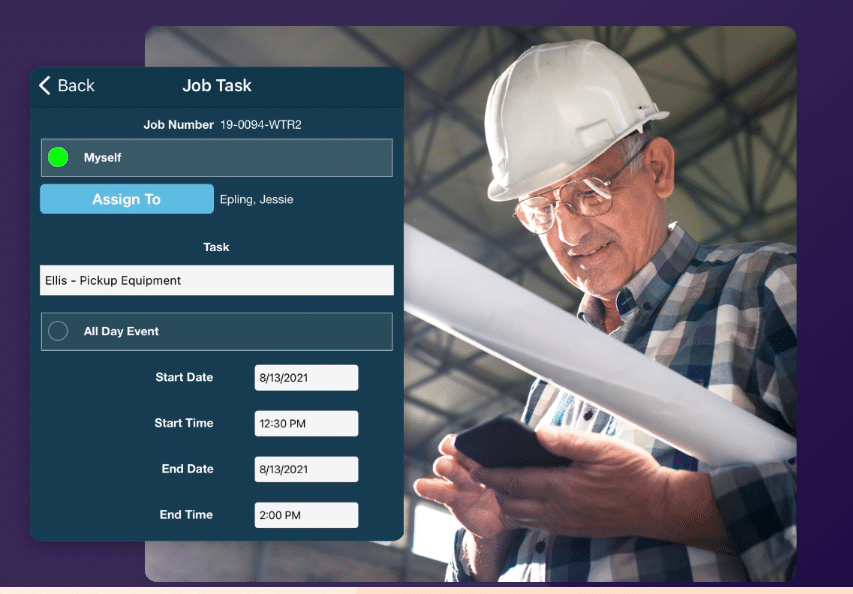 Albiware Features: Advanced, Yet User-Friendly:
Every business is unique and that's why we believe in flexibility and customizability. Albi is NOT a one size fits all company. You can decide which KPIs to track and how to set up your workflows.
Visual dashboards for data-driven decisions: You have the ability to build custom reports and tailor workflow. By doing a quick scan, you can tell if your projects are in compliance or not. The traditional "traffic light" system warns users about their projects and gives feedback on their compliance status. All stages and compliance factors are fully customizable to your company!

Save time with automation: If you can dream it, you can automate it! Automate your workflows and integrate with thousands of app through our Zapier integration. You can do anything from setting up custom emails and texts. You have the ability to customize your workflows and easily integrate with 3rd party apps.

Collaboration made easy: All communication and files are centralized in one place and kept within the context of your work, so you never miss any key information. All emails will be automatically pulled in and stored under each job file the second you send them! All your calls will be recorded and stored under each job file to boost accountability.

Integrate the tools you love: Keep all your data in the same place and continue using the tools you love. We integrate with over 2,000 apps that you can set up with just a few clicks. You can continue working with the tools you love directly from Albi.

Create, collaborate, and share documents: Not only is communication easy with Albi, but everyone on your team can leave "notes" on a specific project. This allows everyone on your team to be on the same page. This makes it easy when it comes to collaborating and sharing documents. Organizing your files has never been easier. Store and manage unlimited files all in one place. Create custom documentation reports and send them to adjusters or customers seamlessly.
We've gone over features, but what about the other make-or-break consideration when deciding between the two?
Continue on below for a pricing deep dive.

Dash Pricing: Different Plans for Different Needs
Dash has two packages: one at $500 per month (5 staff members max 25 projects) and another at $750 per month (unlimited staff members unlimited projects).
They also have a $2,000 mandatory onboarding/set-up fee.
Albiware Pricing: Something for Everyone's Budget and Needs
Albi is $100 per user per month for the pro users (including phone system and advanced reporting) and $60 per user per month for the base users. There is an optional $1500 advanced training package, however, basic training is included.
Base: $60 Per User
Project Management

Full CRM

Project Documentation

Email Integration

Unlimited storage!

Min 2 per user*
Pro: $100 Per User
Base package plus

Call tracking & Recording

Custom Reporting

Custom Dashboards

Advanced Permissions

Min 2 per User*
Not sure which one of our pricing plans is right for you? Check out our pricing page to play around with the different pricing options and find the perfect option to fit your team and budget.

Dash Customer Support—Contact Them via Request Form or Call
Dash provides ways customers can get in touch by filling out a tech support request form or calling them on the phone. Dash has ways customers can help themselves with an FAQ page, a knowledge base, and videos for troubleshooting. According to their site, they offer support 24/7.
Albiware Support—Help Anytime, Anywhere, on Any Plan
Aside from phone support, Albi customers can also receive help through a live chat directly from our website, email, a contact form on the website. Albi also has a knowledge base along with helpful videos. Customer support is quick about responding to issues within a 24-hour time frame.
Let's Review— Dash vs. Albiware, What Are the Differences?
The best conclusion for "Dash Restoration Software compared against Albi" is that Albi is great for companies with less than 10 users due to saving the need for an office phone system and also great for large companies looking for cutting-edge technology in their toolbox.
Dash is great for medium-sized to large companies on a budget. Furthermore, Dash has built strong relationships with insurance carriers and become the "standard" for vendors and TPAs.
We've also looked at reviews by Capterra, the most popular software review site, Dash has a 3.0-star rating.
On Capterra, Albi has a 4.7-star rating.
What's unique about Capterra is that only verified users can place a review.
If you're a larger restoration company with a tight budget in mind, looking for mature software that forces staff into workflows and tasks, then Dash is the software for you!
If you're an early adopter of new technologies, and want simply powerful innovative software, then Albi is the right place for you!
Albiware Offers the Following:
Albi also offers a "white glove onboarding" which allows the end-user to have everything set up for them professionally.

Data transfer is free from other software.

Integrates with Quickbooks Online, Zapier, Company Cam, Encircle, Kahi, and much more.
Start working more efficiently with the platform for your needs
Now that you have all the information on Albiware vs Dash's software, which will you choose? Will you go for a fully innovative platform that scales with you as you grow? Or opt for a tool that covers the basics, but doesn't necessarily see the need to make changes to better suit your needs?